Cast Implant Bars
Dental Crafters has 20+ years experience in casting implant bars. This time-proven product is comparable to milled bars and should be considered a very viable option. Cast bars are advantageous because they offer a wide variety of attachment designs.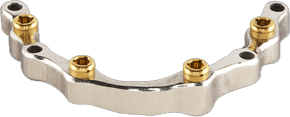 CAD/CAM Milled Implant Bars
Milled from solid titanium, Dental Crafters offers a comprehensive line of CAD/CAM Overdenture Implant Bars. For added precision, Dental Crafters utilizes design software from NobelProcera™. Implant bars from NobelProcera™ are individually designed using 3D CAD/CAM driven software, industrially milled from a solid biocompatible monobloc of titanium and delivered highly polished and ready to use. Thanks to precision milling, these bars exhibit exceptional fit, ideal load transfer, and long-term stable screw joints. The NobelProcera™ implant bars offer excellent versatility and are suitable for a wide variety of attachment types and therefore meet the requirements of most clinical situations.